Kerry Ridicules Troops "AGAIN", Says "Soldiers Stupid"
Well It Looks Like Our Uneducated Troops In Iraq Have Quite A Message For Kerry LMAO...Boy Did Kerry Piss Off The Troops This TimeIt is NO longer Unclear where the Democrat's stand on our Troops, They all despise them and think they are Stupid. Thank You Senator Kerry for letting us in on this.John Kerry: U.S. Soldiers Not 'Smart'Bush: Kerry's Remarks 'Insulting'
Bush: Kerry Owes Military an Apology
Sen. John Kerry has sparked outrage by suggesting that U.S. troops in Iraq are uneducated and not "smart."
At a campaign event for California gubernatorial candidate Phil Angelides at Pasadena City College on Monday, the Massachusetts Democrat and Vietnam veteran said:
"You know, education, if you make the most of it, if you study hard and you do your homework, and you make an effort to be smart, uh, you can do well. If you don't, you get stuck in Iraq."Kerry's troop-bashing remarks belie the truth about the educational level of U.S. troops. According to figures readily available on the Internet, 99.9 percent of the enlisted forces have at least a high school education, 73.3 percent have some college, 16.2 percent have an associate's degree or equivalent semester hours, and 4.7 have a bachelor's degree.
What's more, over 85 percent of field grade officers have advanced degrees – 70.7 percent have master's degrees, 12.1 percent have professional degrees and 2.5 percent have doctorate degrees."Senator Kerry not only owes an apology to those who are serving, but also to the families of those who've given their lives in this," White House press secretary Tony Snow said regarding Kerry's remarks.

"This is an absolute insult."
Sen. John McCain, another Vietnam veteran, also called on Kerry to apologize, saying: "The suggestion that only the least educated Americans would agree to serve in the military and fight in Iraq is an insult to every soldier serving in combat."
Kerry on Tuesday tried to deflect the criticism by issuing a statement accusing Snow and
"assorted right-wing nut-jobs" (I guess that means us)
of distorting the remarks "to divert attention from their disastrous record."
(What disatrerous record is Kerry talking about? The fact we havent been attacked in 5 years? The booming economy? 3 Elections, a Government Formed, and the Iraqi's soon to take the lead in thier own Security? 50 Million People Freed between Iraq and Afghanistan? What the hell is Kerry talking about?)
He added, in a seeming non sequitur: "I'm sick and tired of these despicable Republican attacks that always seem to come from those who never can be found to serve in war, but love to attack those who did."
(Sorry Kerry you stepped in this one yourself)VIDEO: KERRY WARNS STUDENTS: EDUCATE YOURSELF, OR YOU'LL GET STUCK IN IRAQ...VIDEO: BUSH: KERRY COMMENTS 'INSULTING AND SHAMEFUL...VIDEO: BUSH: KERRY COMMENTS 'INSULTING AND SHAMEFUL.. THE MEMBERS OF THE UNITED STATES MILITARY ARE PLENTY SMART, AND THEY ARE PLENTY BRAVE... AND THE SENATOR FROM MASSACHUSETTS OWES THEM AN APOLOGY'...AMERICAN LEGION: APOLOGIZE NOW...Vet Group expresses 'disbelief, disappointment'...Kerry: "I Aplogize to No One"Novak: Kerry HystericalMother of son killed in Iraq urges Kerry to learn more about military...Iowa candidate asks Kerry to cancel campaign visit...
Kerry: I Botched The Joke..(Joke My Ass)*Kerry Cancels Minnesota Appearance...
CNN: Casey Has Canceled Plans To Campaign With Kerry In Philadelphia Tonight...VIDEO: IMUS TO KERRY: 'Please stop it. Stop talking. Go home, get on the bike'... TN Harold Ford asks Kerry to apologize... More Dems Pile On..Dems Join GOP Demand Kerry ApologyHILLARY: KERRY MILITARY COMMENTS 'INAPPROPRIATE'...DEAN: BLOOPERS HAPPEN...Murtha: Kerry 'needs to explain' what he meant...
KERRY ISSUES APOLOGY...TO LITTLE TO LATEThis is NO Apology, he say's he's sorry the Troops and the American People Misinterpeted what he said!! What an Arrogant Bastard!Kerry's '72 Comments Mirror Latest: 'A volunteer army would be an army of the poor and the black and the brown'...
GIS DROP SMART BOMB ON KERRYSEYMOUR HERSH 'There has never been an American army as violent and murderous as the one in Iraq'... Rove: Insulting Military Is a Kerry 'Habit'... Linked With:Now For Something Different Has an Interesting Take on What She Calls "A Little Man"
~~~~~~~~~~~~~~~~~~~~~~~
PISS OFF KERRY! Just because YOU werent the sharpest tool in the shed when YOU were in the Military doesnt mean you can ridicule our Fine Troops today, but then that's typical from THE ENTIRE DEMOCRAT PARTY! There is your proof. This is where the Democrat's stand on supporting our Troops by calling them STUPID! Kerry summed it up for the ENTIRE DEMOCRAT PARTY. I cant believe this, Kerry owes The ENTIRE Military and thier families an apology. Not some distortion that the Troops and the American people misinterpeted what he said. Shame On You Kerry, Shame On You! I Guess This Is What Kerry Means By Our Soldiers Torturing Iraqi Women And Children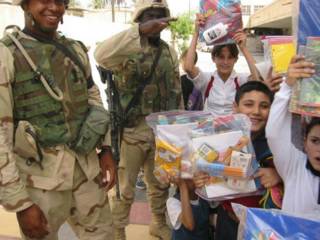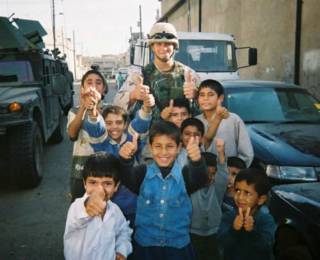 FOR AMERICA'S SAKE, VOTE REPUBLICAN NOVEMBER 7, 2006!

I figure why do thousand's of post's on this I just keep adding to this post, so keep checking links for UPDATES: