What Was Ted Turner Thinking?
BOSTON- Authorities charged two men on Thursday with planting battery-powered advertising signs for an animated cartoon that were mistaken for bombs and caused Boston's biggest security scare since the September 11 attacks.
But investigators were also probing the role of U.S. media group Turner Broadcasting, which has apologized for Wednesday's day-long security scare triggered by a "guerrilla" marketing campaign for one of its cartoon shows.
Sean Stevens, 28, and Peter Berdovsky, 27, were charged in state district court with placing a hoax device and disorderly conduct and released on a $2,500 cash bond each.
Prosecutors said the two were paid by a New York marketing company hired by Turner, and Mayor Thomas Menino has said the city may sue the company, a unit of Time Warner Inc..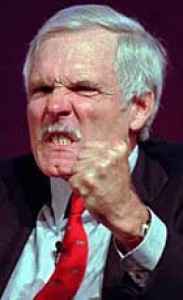 "We're not unaware of the fact that the defendants are not at the top of the hierarchy (of responsibility) here," Massachusetts Assistant Attorney General John Grossman told the court hearing.
Berdovsky -- a Belarus native with flowing dreadlocks -- and Stevens mocked the process in an appearance with reporters, insisting on talking about hairstyles from the 1970s rather than addressing questions about the incident.
The men's lawyer said Turner Broadcasting would pay their legal fees.
Story Here
~~~~~~~~~~~~~~~~~~~~~~~~~~~
Way to go Ted! What an incredibly Stupid thing to do to hire this whacked out outfit to place suspicious packages all around Boston shutting down the entire city, costing the city millions of dollars and all this over a Cartoon Network publicity stunt. This caused a panic all over Boston, the Police, Homeland Security, the Terrorism Task Force, and other agency's had to waste millions of dollars in manpower when they could have been doing other work. Not to mention having to "Blow Up" some of these Crazy "Lite Bright" looking boxes. And the two idiot's in the picture above were laughing at all this? They think the public reaction to this was way to much? What IMBICILES!!! We are in the middle of a WAR, the Public is contious (Thank God) about suspicious looking packages ANYWHERE in this Country not knowing if they are bombs or any possible act of terrorism, and will and should report them to the police! Turner and his "Outfit" he hired should be charged with everything they can throw at them. Not just a fine! Then again what should we expect from the man who created the Communist News Network?