Saddam Executed For Crimes Against Humanity
Saddam Hussein Executed in IraqWARNING!! GRAPHIC PHOTOS AND VIDEOS!
State TV has been showing footage of Saddam Hussein's atrocities
Former Iraqi President Saddam Hussein has been executed by hanging at an unspecified location in Baghdad, for crimes against humanity.
Iraqi TV said the execution took place just before 0600 local time (0300GMT).
The news was confirmed to the BBC by the Iraqi Deputy Foreign Minister, Labeed Abawi.
Two co-defendants, Saddam Hussein's half-brother Barzan al-Tikriti and former Iraqi chief judge Awad Hamed al-Bandar, were also executed.
All three were sentenced to death by an Iraqi court on 5 November after a year-long trial over the 1982 killings of 148 Shias in the town of Dujail.
"Criminal Saddam was hanged to death," state-run Iraqiya television announced, as patriotic music and images of national monuments were broadcast.
A scrolling headline read: "Saddam's execution marks the end of a dark period of Iraq's history."
Iraqi-Americans Celebrate Saddam's Execution In Dearborn, Michigan
No this guy isnt trying to hang the Flag upside down, he was grabbing at the Flag to pull it over his head.
Other Arab TV stations aired live footage of the sunrise over Baghdad's Firdous Square, where US Marines pulled down a statue of Saddam Hussein, after he was deposed in April 2003.
'Turning a page'
US troops and Iraqi security forces are on high alert for any violent backlash. The US State Department has urged all its embassies to increase security.
The BBC's Peter Greste in Baghdad says Shias have generally welcomed Saddam Hussein's death and hailed the execution as justice for the suffering endured under his leadership.
But Saddam's own Sunni tribesman were angered by his treatment and they may well protest once more, our correspondent adds.
The White House is expected to issue a written statement, although President Bush is not expected to make an address.
The BBC's Adam Brookes in Washington says the Bush administration will see the act as turning a page in Iraq - a demonstration that Iraq has a sovereign and democratic government.
However, the administration will be keen to portray the execution as a matter purely for the Iraqi government and its court system, our correspondent says.
UK Foreign Secretary Margaret Beckett welcomed the fact Saddam Hussein had been tried by an Iraqi court "for at least some of the appalling crimes he committed" and said "he has now been held to account".
France called on Iraqis to "look towards the future and work towards reconciliation and national unity".
Story Here
~~~~~~~~~~~~~~~~~
Well the Butcher of Baghdad is DEAD!! Iraqi's are clebrating, and this chapter is closed! Saddam will be buried somewhere in Iraq in an unmarked grave, fitting I think, never to be seen or heard from again. Rot in Hell with Uday and Kusay, Saddam!UPDATE:

Saddam's Last Words
Of course I'm still waiting for the real execution video, I just thought I would throw this little diddy on here in the meantime :-)
~~~~~~~~~~~~~~~~~~~~
Happy Iraqi's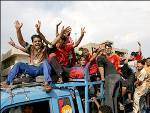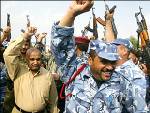 UPDATE: GRAPHIC
`
The Execution of Saddam Hussien
~~~~~~~~~~~~~~~~~~~~~~
UPDATE:

Partial Video
UPDATE: GRAPHIC:

Iraqi TV show's Picture of DEAD Saddam Hussein
~~~~~~~~~~~~~~~~~~~~~~
Saddam Hussein The Fall Of A Tyrant
Dedicated to Danny
~~~~~~~~~~~~~~~~~~~~~
Linked With:Mike's AmericaMidnight BlueMidwest RightwingersPettifogSparks From The Anvil
~~~~~~~~~~~~~~~~~~~~~~~~~
UPDATE: ***WARNING GRAPHIC*** **UNEDITED**

**Actual Cellphone Video**

Saddam Hussein Hanging
Saddam Hussein HangingUPDATE: 1-8-07 NEW VIDEO SURFACES OF SADDAM DEAD **WARNING** **EXTEMELY GRAPHIC**I dint have a code for this one just click itSADDAM DEAD