Film Festival Director Raves About 'Assassinate Bush' Movie
"Xenophobia, the hidden costs of war and the nature of civil liberties in a hyper-media age all come under the microscope" in a controversial movie depicting the fictional assassination of President Bush.
So says Noah Cowan, director of the Toronto Film Festival, where the British-made movie will premier on Sept. 10.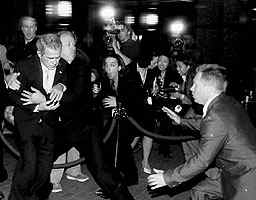 On the festival's website, Cowan describes the movie as "easily the most dangerous and breathtakingly original film I have encountered this year."
He says the director, Gabriel Range, "is interested in addressing today's political issues."
Until now, the movie has been referred to by the Toronto Film Festival as simply "D.O.A.P.," but at a press conference in Britain Thursday, it was announced by the title "Death of a President."
Britain's Channel 4's
More4 channel is reportedly hoping to sell the feature-length drama to U.S. networks.
After three screenings in Toronto, it will air in Britain on Oct. 9.
At the press conference, More4 head Peter Dale called the film "a pointed political examination of what the war on terror is doing to the American body politic."
Range uses computer-generated imagery, archive footage and special effects in the film, which reportedly depicts a nation polarized by Bush administration foreign and domestic policies -- and features anti-war demonstrations.
The movie is styled as a documentary made several years hence, looking back at the assassination of Bush by an unknown sniper at a Chicago hotel in October 2007 and subsequent events.
Providing a glimpse of the "xenophobia" aspect that Range evidently explores, the synopsis refers to the hunt for the president's killer focusing on an Arab -- a Syrian-born man named Jamal Abu Zikri. The implication is that the suspicion may be misplaced.
News of the movie was circulating on numerous Internet sites and major blogs Thursday.
CBN News reporter Dale Hurd wrote in a commentary that
"Death of a President" "should provide haters of Bush on the Left and in the Muslim world with 93 minutes of pure viewing pleasure."
On one movie website, a critic identified as Devin Faraci wrote that although he has not seen other movies directed by Range, "I will say that my interest is piqued. And not just because I hate Bush!"
What if President Bush WAS assassinated? One Writers Opinion - This could really happen!!!
Now For Something Different- Interesting Take On All This
~~~~~~~~~~~~~~~~~~~
This is to much. I would LOVE to see ANYONE on the Left Condemn this piece of shit!! The Assassination of ANY President is heartbreaking Republican or Democrat alike, but you on the left I bet will just snicker about this. I cant imagine how the Bush family feels about this. Bless thier hearts. If you on the Left dont condemn this I will really know there is NO hope for you anymore.